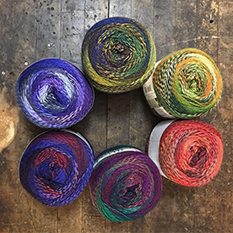 We're Your Fiber Supplier
Lori Kirk
We're your supplier for all things fiber! Cowgirl Yarn has always been excited to cater to all crafts but in the last few months our offerings for the weavers/spinners/felters has expanded greatly and we couldn't be more stoked to share this with you.
We have brought in several different yarns on cones for the weavers who need those quantities of yarn to make their dream projects. From rayon chenille to wool/tencel to alpaca/silk to 8/2 cotton to a sparkling 100% bamboo, we've got these spectacular blends on cones for your next project. We stock many colors in these yarns in stores but if there is a specific color you want but you don't see, don't hesitate to ask!
Spinners and felters can revel in our selection of American grown spinning fibers. We have a host of dyed pounds of fiber, raw fleeces, washed fleeces, picked locks, raw locks, dyed assortments and so much more! The meditation of spinning is expanded greatly when you are using fiber with known origins and local ties and the same goes for felters! With such a wide variety of fibers, colors, and textures felting is a joyous experience with so much variety.
We also offer classes and private lessons in weaving on all looms, spinning and felting. If you are already a weaving fiend, we have several looms in all styles and sizes available for rent in our Fernwood Studio.