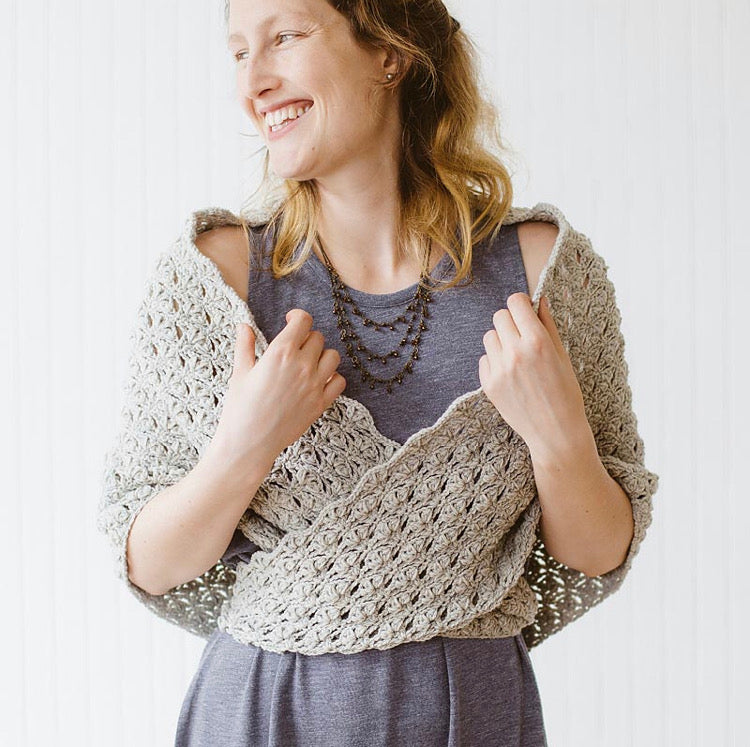 Summer Making Inspiration
Here's a little round up of some inspirational summer projects that would look amazing in plant fiber blend yarns and they will transition your wardrobe into any season! 
Roving Kimono by Irene Lin--Knit in a DK weight, we would suggest Bamboo Pop, Hempathy, Silky Wool, or Cestari Ash Lawn Collection! The elegant allover lace will shine in a solid color of any shade so go as neutral or as bold as you'd like with your color selection! 
Grand Staff Cardigan by Amy Gunderson--This swingy cardigan is designed for Bamboo Pop, one of the shop's favorite yarns! This yarn comes in a variegated, solid and speckled variety so you can have the maximum amount of fun when selecting colors for this universally flattering garment.
Cumulus Blouse by PetiteKnit--While this pattern was originally designed for a wool or mohair fuzzy yarn, we think it would look equally fabulous and wearable for all seasons in the new Suave by Pascualli yarn! This fuzzy cotton would give the top the same look as a mohair or wool blend but the cotton would keep it light and airy, perfect for cool summer evenings or layering over a dress. 
Anderson by Rebecca Velasquez--Get your hooks ready because you are going to want one of these shawls in all sorts of colors and textures! The stitch pattern is unique and textured while still maintaining a sleek finish. Try it in textured yarns like Hempathy or even a variegated like Skacel Cotton Concentric or Medina! 
Caballera Duster by Ali Morrow--The 70's are back y'all! Join in on the fun with this crocheted vest. It is perfect for throwing on over a swimsuit or pair it with some bell bottoms and some wedge sandals! Try making it in Misty Wool, a hemp wool blend! 
Little Joggers by Dora Creadora--You can't forget about kids knits when talking about plant fibers! Plant fibers are a natural choice for baby and kids because they are hardwearing, soft and easy to care for. You can't go wrong! Whip up a pair of these little lightweight pants to match quirky t-shirts for your favorite little one! Try Queensland United a certified organic blend of lambswool and cotton! 
The Perfect Baby Bib by Debbie Haymark--Speaking of kids knits, this baby bib is a great knit for using up scraps! They take just a bit of yarn and you can combine your colors into something unique and fun. Make a few and have them on hand for when someone needs a last minute baby gift!