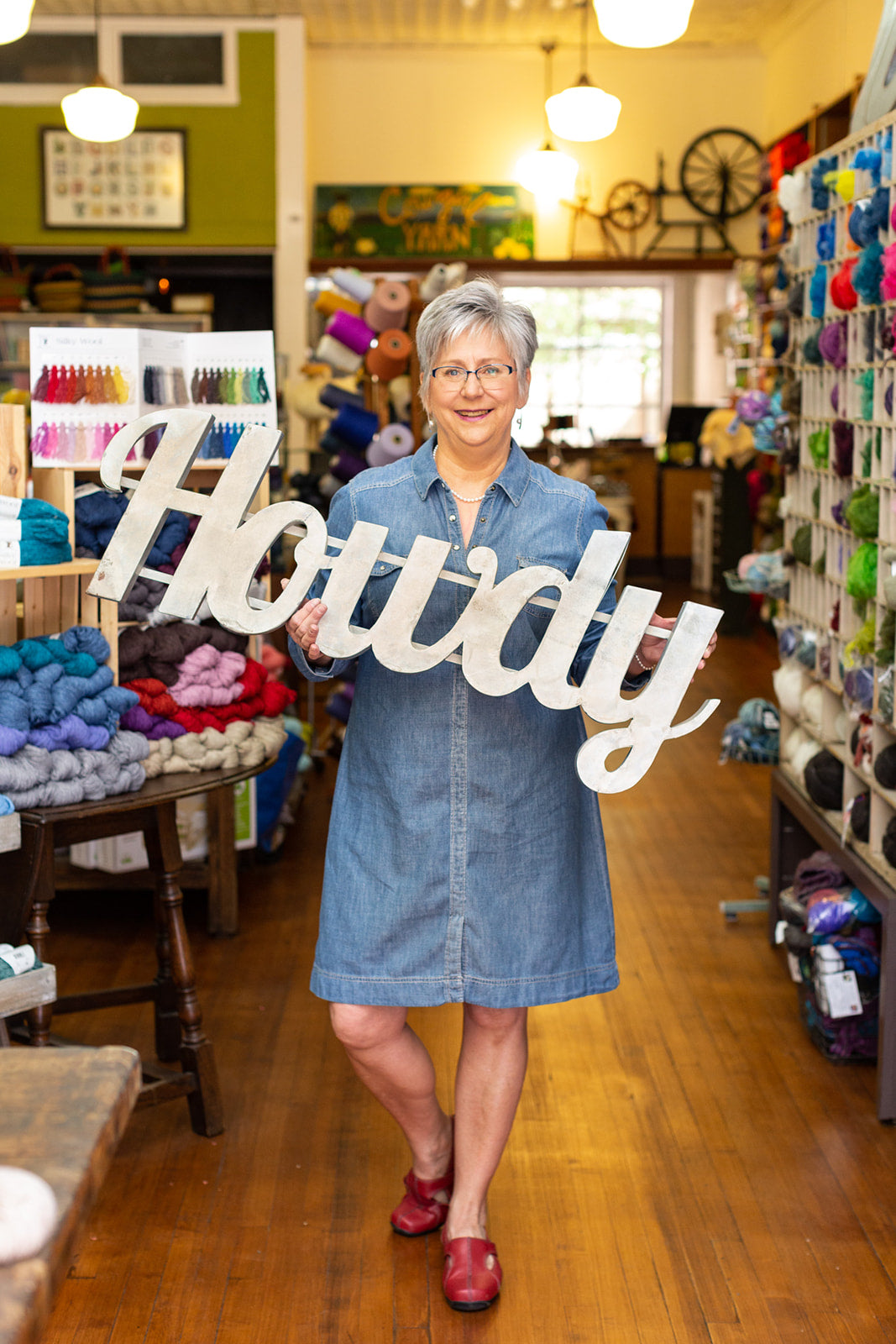 Welcome to the 2020 Hot August Knits Yarn Crawl
Due to ongoing concerns about the coronavirus pandemic, this year's crawl will be a bit different, but still fun and filled with fiber goodness! You can choose to participate both in-person or online with our virtual events, which means you can participate from anywhere. Additionally, our online store is stocked, so you can shop from the safety of your home if you prefer. However, if you choose to shop in-store, our hours will be Tuesday through Friday from 10:30 am until 6:00 pm and Saturday from 10:00 am until 5:00 pm. We'll also be open on Sunday, August 9th from 1:00 pm until 4:00 pm. This is the only Sunday that Cowgirl Yarn is open, so plan accordingly.
All are welcome at Cowgirl Yarn. We ask anyone who enters the shop to wear a face covering, and use the hand sanitizer station that is located by the front door. We're currently limiting the number of customers to five at a time. If we're at capacity, we have comfy chairs for you to wait in, as well as a lovely, shaded outdoor courtyard. If your group is larger than five, please give us a call, so we can make accommodations for you. We've also gone bag-less, which means you should bring your own tote or bag for your purchases. You can buy the official Hot August Knits bag online
here
. While you're at our online store, be sure to sign up for our newly launched Cowgirl Stars loyalty program by looking for the magenta circle with white star in the lower right corner. Click on it, and you'll be prompted to sign in with your existing account or join with a new login. If you already have an email and password associated with previous in-store or online purchases, you can sign in with this. If not, you'll need to create one by following the prompts. Now it's time to start earning stars! You can earn one star for every $1 you spend, and stars are redeemable for coupons that can be used on future purchases. 
We will be winding yarn during the crawl, but if you need multiple skeins wound, we may ask you to explore our great downtown while your yarn is being wound. There are many unique shops, boutiques, and dining options in the blocks surrounding our store, and we're happy to make suggestions. We'll also be offering curbside pickup and "meet us at the front door" shopping experiences.  
When you visit our physical store or attend one of our virtual events, be sure to scan the Cowgirl Yarn QR code for your virtual passport. You'll need a QR Reader on your mobile device to do this, and full instructions for how this will work can be found
here
. We'll also have a print-out available in-store, so you can do this quickly, easily, and safely. Scanning the QR code at every shop you visit in-person or each virtual event you attend online will ensure that you're entered into the prize drawings. These include the opportunity to win a $50.00 gift certificate from Cowgirl Yarn and a variety of Hot August Knits grand prize baskets. To be entered into the drawing for the grand prizes, you'll need to have scanned the QR code for each of the six stores participating in the crawl. Again, this can be done by an in-person visit or by attending a virtual event. For a full list of events and more details, visit the
Hot August Knits Yarn Crawl
webpage.  
Virtual Events
Join us for these Cowgirl Yarn Facebook Live Events:
Sunday, August 2nd at 4:00 pm – Join Lori Kirk, Owner of Cowgirl Yarn, as she welcomes you to the crawl and shows you around the store.
 
Saturday, August 8th at 12:00 pm – Ali Pate of Road Trip Sock Yarn will be joining us for a virtual trunk show and premiering a new yarn dyed exclusively for Cowgirl Yarn. She'll also be sharing a number of new colors in her Meow Mélange Series. For each skein of the Meow Mélange sold, a $2.00 donation will be made to the cats at the Denver Dumb Friends League. You can find her yarn on her Etsy Shop.
Tuesday, August 11th at 5:00 pm – Jonathan Berner from MJ Yarns will be joining us to share some of his newest hand-dyed yarns.
 
Saturday, August 15th at 4:00 pm – It's the last day of the crawl, but you won't want to miss this. Join Lori Kirk, Owner of Cowgirl Yarn, for the premiere of a video featuring Laramie's own Tronstad Ranch. Lusha Tronstad will be demonstrating how they process their wool into a finished product.

All of the above events will be held virtually via our Facebook page. Follow us on Facebook and Instagram to make sure you don't miss out on additional events. For those doing the crawl virtually, please join us for one of the Cowgirl Yarn Facebook Live events to scan the QR code for your virtual passport.
 
Cowgirl Yarn in Historic Downtown Laramie
Located in historic downtown Laramie, Cowgirl Yarn (established in 2005) and the Fernwood Studio (established in 2017) is a fiber lover's paradise. Our unique collection of scrumptious yarns, luxurious needles, fashion-forward patterns, one-of-a-kind accessories, and oodles of inspiration provides the ideal home for any and all knitters, crocheters, weavers, and spinners. Along with tried-and-true brand favorite yarns, we are proud to offer a large and exclusive selection of yarns and fibers that are produced here in Wyoming. See the Cowgirl Yarn site for information on shop hours, products, and more. Go to the Hot August Knits website for more information about the crawl.