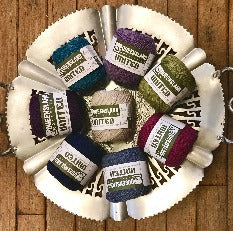 Getting To Know Queensland Collection and Elsebeth Lavold
Maureen Johnson
If you are on the hunt for some great yarns to start working on your late winter/early spring project line up you are going to love our new additions to the shop! We have decided to bring two exquisite yarn companies into Cowgirl Yarn, Queensland Collection and Elsebeth Lavold. These two lines speak to different color palettes, textures and project types making them both a lovely and complementary addition to our product offerings.

Queensland Collection features playful yarns that are full of texture, color, and hefty yardages. We currently stock United, a certified organic blend of cotton and wool, Perth, a hearty sock composition of 80% superwash wool and 20% nylon, and Oxley, a luxe heathered yarn featuring 50% yak and 50% wool.
Elsebeth Lavold is home to the legendary yarn line, Silky Wool. Silky Wool is a DK weight, light yet substantial blend of silk, wool and nylon. With nearly twenty thousand listed projects on Ravelry made in this yarn you can be sure that this well-loved yarn will make an incredible finished object.
With all of these new arrivals we thought it was time to host another yarn tasting with Chalk and Cheese! We will be featuring all Elsebeth Lavold yarns including Silky Wool and their other great offerings, Hempathy, Misty Wool, and Luscious Llama. We will also be sampling the incredible Lykke knitting needles during this event! We will have a variety of circulars, straights and interchangeable needles on hand to try out alongside the Elsebeth Lavold yarn collection.  
Space is very limited for the tasting so be sure to secure your tickets ASAP!
Not going to attend the tasting? You can pre-order the Lykke needles on our website and shop the newest yarn offerings while you are there!